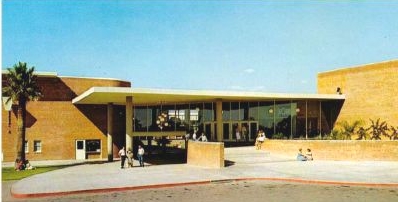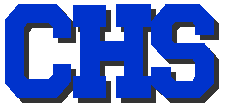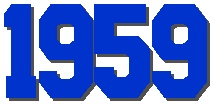 Catalina High School, Tucson, Arizona, USA

May, 2004

   Ford Burkhart thinks he's got a hot job being International Editor of The New York Times.  Big deal. I am the Editor-In-Chief of the CHS1959.com website. Eat your heart out, Ford.

    All kidding aside, if that is possible for me, this is a lot of fun. Mostly.  The one thing that distresses me is finding out details of our classmates who are no longer with us. It is sad to discover those who left us...and especially those who left us so many, many years ago. What a tragedy.

    It is fun hearing from those folks who I haven't seen or heard from in years; many not since graduation. Such a small percentage of us have been to any reunions. I have been to every one and loved them all. I can't wait until the next.

    How can I get more of you to fill out your information forms so I can give you a hyperlink from Class Members to your own page? How can I get you to send me photos of yourselves these days? Come on gang, take a few minutes. That's what people love to see...what you've done, what you are doing, and how handsome/beautiful you still are.  If you don't I will send you to Mr. Egbert's office.

    And, speaking of that...what a great looking bunch of folks! We had a little reunion meeting at Pete Ronstadt's house and I'm here to tell you...except for me all the guys had way too much hair.  And, the girls were way too young looking.  Must have really been something special about that class of '59. 

    We also need to find more classmates and get their e-mail addresses so that we can tell them about this site.  Know somebody's e-mail address that you think we don't have? Pass it along to us.

    I bet you have some friends you haven't heard from for years and wish they would report in here. Me, too. Like Rick Davis. You remember him. He was a brainy guy who went to Northwestern after high school.  He and I spent a couple summers together in Evanston, Ill and became even better friends than at CHS.  He got married and I got a Christmas card from him in 1967 and that was it. I would love to hear from him again...many others as well. Linda McLean...now there was a smart gal. Wonder whatever happened to her. Or Barry McCoy. How about John Finklestein, the world's biggest Yankees fan.  I bet you have your own list.

    Other classes at CHS had some good friends, too.  Remember Sue Pooler, class of 1958?  She married, became Sue Wagner, and was elected Lieutenant Governor of Nevada.  I had a nice chat with her one day at a local TV station.  She was getting ready to run for Governor, and I think she would have made it, but she was in a small plane accident and it took her a long time to recover. 

    Also, be sure to look at our Links page and check out the class of 1960.  There are a lot of profiles of class members and what they have been doing.

    Don't forget, I need stuff for this site. Memories. Opinions.  Biographies.  Send me anything and I can use it.
chs1959@aol.com
.
    In the meantime, I just want you to know that I hope you like this website. I love doing it, but remember, I need your help.

                              Your Humble Webmaster,

                                                      Ray

PS: It is now a few days later and because of some great internet detective work from Burt Schneider, Barry McCoy has been found. Check in Class Members.  Also, he said he thought John Finkelstein was in New Mexico and had Parkinson's disease.

August, 2004

Hi Gang,

         The website has been up and running for 3 months now and I think it is coming together nicely.  I do wish we could have more participation in submitting personal information, but it is streaming in slowly but surely. 

    I got a nice packet of photos from past reunions from Pam Morris that I will be posting over the next month. 

    Thanks to those of you who have supplied information on other classmates, especially those who have passed away. 
Sandi Bauman
told us about the murder of
Bill Sink
and we have been investigating that so we can supply you with a full report. 
Ford Burkhart
and
Burt Schneider
have been particularly helpful in looking for lost classmates.  Ford mentioned
Susanne Smith Kirk
who just retired as a successful Senior Editor for Simon and Schuster/Scribners and discovered some of the nation's top mystery writers.
    Also, be sure to check out the story about Catalina High I found from a1960
Ladies Home Journal.
It's a real "exposé" on what they called
"Blueblood High"
.  Funny, we never looked at it like that.  It was just a good school.
    By the way, don't you have a tendency to compare prices from the old days with what they are now?  Just like the old geezers we knew used to do.  Who?  Like I bought a roll of Life Savers at 7-11 and cost it 79 cents.  Weren't they a nickel?  While I was there someone came in and bought a pack of Marlboros.  $4!! Four dollars!!  I'm sure glad I quit.  I remember putting a quarter in a machine...then a quarter and a nickel.  But, you know, if I was still smoking I would have paid $100 a pack. 

   What is the real price comparison to when we graduated?  The factor is exactly 6 times.  That's the inflation rate from 1959 to today.  Remember the gas at the old Hudson station on Speedway?  29.9 cents a gallon. 30 cents.  Times six is $1.80.  Pretty close to today's prices.  Then look at the cost of admission to the Rock Concert on our home page.  All those great stars and admission was $2.50.  Times six is $15.  To see Allan Jackson and Martina McBride recently  in Phoenix was $60.  And, they couldn't carry Chuck Berry or Buddy Holly's guitar.  Next time you complain about the price, just remember 6 times is the magic formula. 

    CHS, 1959...What a class!  There is no question that this is one very brilliant, talented, and successful group. And, not just measured worldly-wise, but by the wonderful families, gifts of public service, and friendship that is exhibited by so many.

    This site will only be successful with feedback from you.  Please let everybody you know about it.  Help us find our lost members.  And, don't forget the "In Memoriam" page.  I need more information, even for those who are listed...please add a few words.  We make it easy.  Just use any Information Submission form.

    This is such a great class; my goal is to make the site reflect its quality.

Ray

PS: I will be gone on vacation for two weeks in the middle of September, so there won't be many new things posted then, but no matter where I am, I will be checking my e-mails.

October, 2004

Hi Gang,

    Another reunion come and gone.  Like many things in life, you look forward to it for what seems an eternity and then it happens in a split second.  My goal was to say hello to everybody who came and I still missed a few. But, overall, I thought it was terrific.  Just a low-key opportunity to visit with a bunch of great people.  I have never missed a reunion and I liked every one. It was great to see some folks  I had never seen at a reunion before like Lance Hoopes, Bob Vinyard, and Mike Mayer.  That means I have missed their company for 45 years.

   I really appreciated all the nice words about the website.  Believe me, I'm happy you let me do it.  It is a real honor to be the "central clearing house" for all of our life stories and class activities.  I love to do it.  It is a fun hobby and I couldn't think of anything I would rather do.  And, at this age, that's the truth!! (Sorry, Renee).

   Now I just can't wait to see the photos of the event. Three photographers were busy:  Heather Foster (Nate's wife), Bill Black (Sue Daggett's hubby), and Gene Hammill. I'll post them for all to see as soon as I get them.

   Here are my own personal awards...the winners this year of the "Lindy" are, for

Not Changing One Bit in the Looks Dept., female:

Pam Morris, Margie Tench, Carol Fisher, Martha Risner.

Not Changing One Bit in the Looks Dept., male:

Quentin Bryson, Jay Kittle, Jim Sakrison. (I think it has something to do with hair.)

Really Changing a Lot in the Looks Dept.:

Me and Merlyn Bee (Yes, it does have something to do with hair!)

Big Business Mogul Types:

Mike Mayer and Jack Wallace

Greatest Sense of Humor:

Dave Stretmater (Since he once was featured on our "In Memoriam" page.)

As Sweet as Ever:

Jean Meinhardt

Most Positive Attitude:

Bert Roberts

Still a Real Cool Cat: (Like as in "grooovy, man") 

Pete Ronstadt

Most Erudite: (Anybody know what that means?)

Ford Burkhardt

Taken "The Road Less Traveled:"

Animal

Best Dancers:

Sue Daggett and Hubby Bill Black

Sports stars:

Mike Nagle, Conrad Bachelier, Bob Vinyard

    Don't be insulted if you didn't win one of these awards.  It was just a way for me to stay awake by keeping my warped mind active driving back to Nevada on Saturday night after our reunion.

It was another terrific event.  Now it is on to the biggie...the 50th in 2009...who could have ever imagined?

SITE NEWS:

    I am adding a few tabs above left.  One is already there called "CHS SHOPPING."  This will feature any products produced or sold by any of our classmates or spouses that is available on the internet.  For example, right now you will find Ford's wife Carolyn's books, my Zoom Records, Bert Roberts' movie, Neil Carmony's books (all at Amazon.com), and Tom Ervin's CD. Do you have something for sale on the internet?  How about an eBay site?  Do you know a classmate who does?  Let us know and we will include it here.

    We will also add a feature called "MEMORIES" and put all of our old "CHS days" items there.  TRIVIA & NOTES will be for current matters.  Also, I think we are about to get a group of old Trojan Trumpeteers from our Senior Year and we might add a tab called: TRUMPETEER.  Stay tuned for more.

I want to keep this site fresh and ever-changing, so keep looking at it and hopefully you'll always find something new and of interest. 

Thanks for all your help.  Keep it coming.

Ray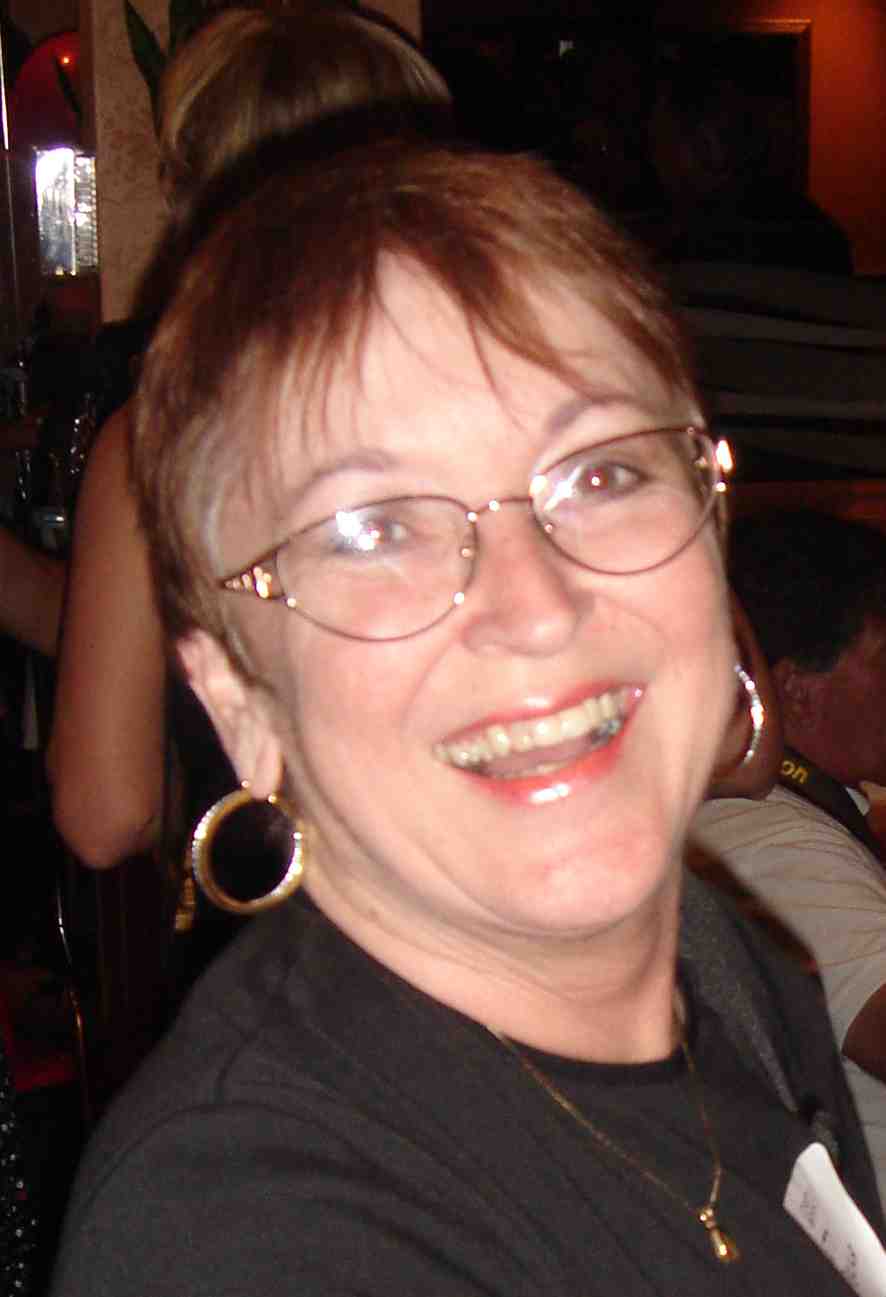 At the KGUN Party, above Frank Kalil, below, Patty Odom.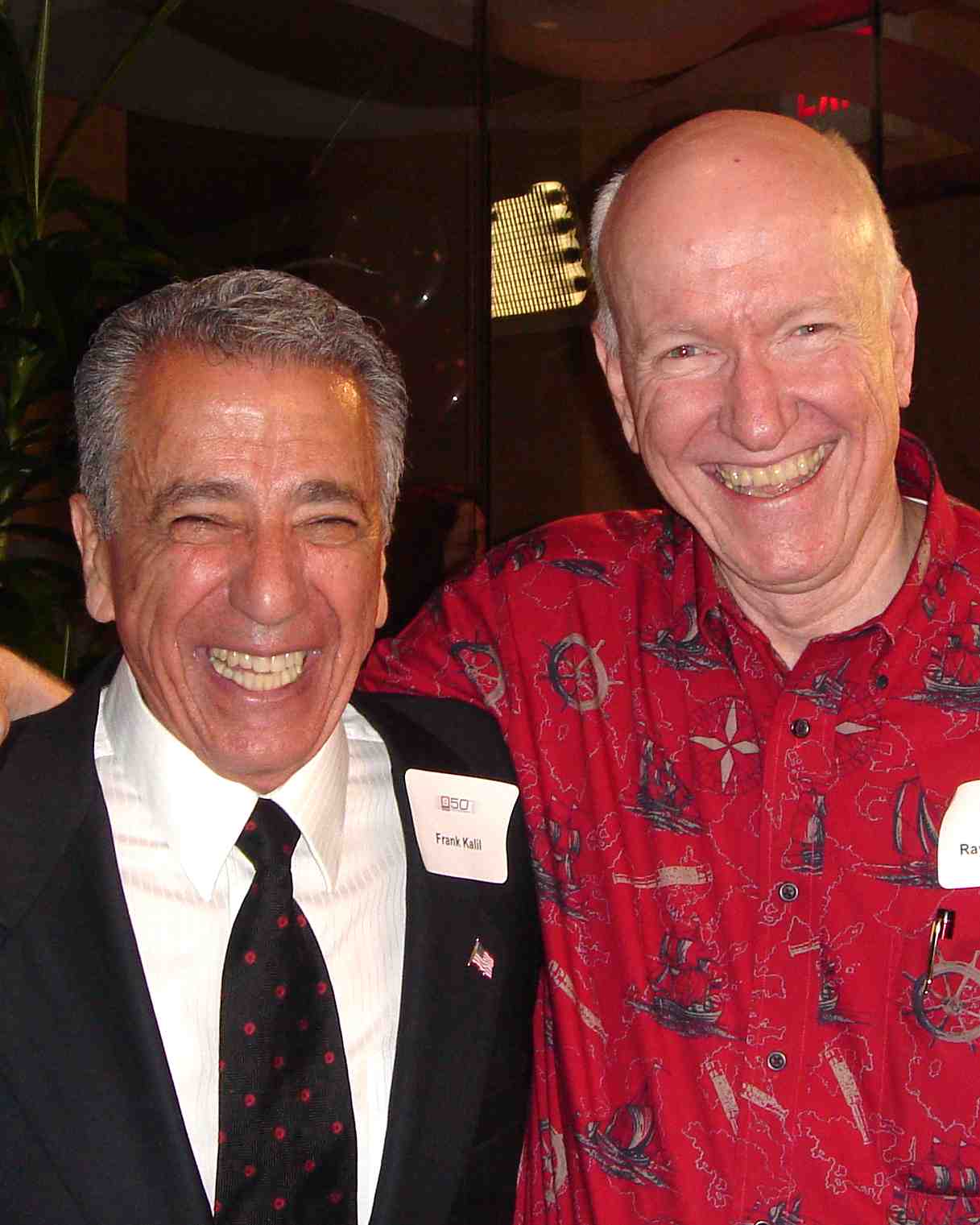 It's been a long time since I have put finger to keyboard to write anything here, mostly I have been posting what other classmates write. But, it is summer, it seems as if classmate contriibutions have dried up and the e-mail box is empty.

    So, I'll just tell you about what I have been doing.

    I was down in Tucson on July 19 to celebrate my dad's 90th birthday. He decided not to have a big wingding, so I put up a website with some old pictures and a review of his life complete with a message board so folks could give him their good wishes. Check it out,
www.alvinlindstrom.com
.  My dad is incredible. Plays golf, walks a couple miles a day, perfect condition, sharp as a tack.  He and his 89 year old wife live on the golf course at the Hilton El Conquistador in Oro Valley.
    Remember
John Finkelstein
? He was quite a character, or I should say
is
quite a character.  He called me last week. Wanted a copy of some old ZOOM Records with
Pete Ronstadt
and the Nightbeats. He is one of the few people I discovered who is not on the internet, so he has never seen this site. He has Parkinson's Disease and lives in a nursing home in Albuquerque.  An absolute genius, he  had a fine career as a professor of  mathematics at the University of New Mexico.
    At CHS, I was in charge of the morning announcements and John was one of the announce team.  One morning he signed on with, "Today's announcements are brought to you by The Elbow Room." (A local strip joint on Speedway).  Gridley had a cow.  John was fired and I was admonished to be more selective in who I chose to be a morning announcer.

Pam Morris
has written a nice column about
turning 65.
  Most of us are there or really close to it. I'm glad she is not retiring.  Jeez, just about everybody in our class is either retired or on the verge of it.
    I am still looking for new things to do. My latest project is
jockreport.com
. It is a sports site that is a knock-off of the political news site, Drudge Report, except ours is all sports news kept up to the minute by a team of writers I assembled.  We keep up to date with the top news plus locate  really interesting stories that you won't find anywhere else. I like to call it a cross between The New York Times (sorry, Ford) and the National Enquirer if they had a sports page. Take a look. They did a nice story about the site in the
Arizona Republic
.
    I have been an avid sports fan for years, and especially of the Chicago White Sox, since I lived in the Chicago area before I moved to Tucson.  All my friends back there were Cubs fans. I was the only Sox fan.  So, winning the World Series last year was really exciting for me. I even went back for the second game.

    Another thing I did lately was attend the 50th anniversary of KGUN-TV, Channel 9. They had a big bash for all employees of past and present. I worked there while going to the U from 1960-1962. One of the old-timers.  Patty Odom, one of our classmates was there, too. She worked with me for a while in the early 60's.  I saw Frank Kalil for the first time in many years. He was my boss at KTKT. He hadn't changed a bit. I still think he was the biggest radio star ever in Tucson.  Remember listening to his show every day after school?

    Hey gang, this site for me is a labor of love. It's now been up for a little over 2 years.  We've had over 10,000 visits and found 100 classmates (less than 25%).  But, I do need your help. I still have not heard from lots of folks...even those that many of you still see in Tucson. Continue to encourage them to contact me via the site and give us information on their lives.  And, write to me! I am always interested to hear from you. Give me details of your life for our site so others can enjoy it, too. Or gossip, tidbits, anything. 

As always, I am your Humble Webmaster,

Ray

If you have any comments, questions, or suggestion. contact me:

    To say that Mary Helen Richardson was the most popular girl in our class would be unfair to her. It was not something she strived for, she just was. More than that, she was attractive, personable, caring, and extremely intelligent. And, she was a very good judge of character, since I asked her out on dates many times, and she would always refuse, however, very politely, allowing some dignity to remain.

    She went on to the University of Arizona where she continued her achievement and after graduation to work in the offices of Congressman Morris K. Udall.

    The entire class was shocked at her death in 1970.  So young. Such a tragedy.

    As a way to help preserve her memory, friends and relatives including her sister Lucy and brother Bon, both CHS graduates also, set up a scholarship in her name.  It is known as The University of Arizona College of Humanities Mary Helen Richardson Memorial Scholarship and is given to outstanding students in English or Creative Writing.

    We had a link from her
In Memoriam
listing on this website to the scholarship at the UA website. Recently I checked the link and discovered the site no longer existed. Was it a problem with the site? Did the scholarship still exist? Our class needed to know the answers.
    With that result in mind, I contacted my top two investigative reporters, Ford Burkhart and Pam Morris Samuels to find the truth. And, they did.

    Initially, Ford was given the bureaucratic run-around by the school. Nobody seemed to have the answers.  Finally, a  gent named Ken Bacher supplied the details.

    He writes, "In response to your questions, the scholarship has been awarded every year since the fall of the 1998-99 academic year. It was started with donations totaling $19,000 in November of 1997. The first award was for $1,000 and all succeeding years have involved donations ranging from $1,025 (2003-2004) to $1,775 (2004-2005). Starting in the 1999-2000 academic year, and ending in the 2002-2003 academic year, the award was for $1,400. For 2006-2007, it was $1,425. The award is usually made by the English Department Scholarship Committee in the Spring. The original specifications, approved by Lucy and John Masterman and Bonham and Linda Richardson in 1997, are still being used to make the awards".

    Pam contacted Lucy and she responded, "the scholarship is alive and well, with a succession of worthy recipients made each fall. Bon and I have met each one of them, and they are exemplary students. The positive energy lives on!"

    That is truly great news and if there was ever a poster girl for "positive energy" it was our very special classmate, Mary Helen Richardson.

    Pam also found the new website for the scholarship, just
click here.
    Many thanks to Ford and Pam's diligence for helping take a closer look at this project. And, to Lucy and Bon for their work in administering this worthy memorial. Also, to our classmates who financially support it.

    You deserve it, Mary Helen.

    Ray Lindstrom, Your Humble Webmaster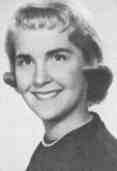 Summer, 2007

Have we hit the summer doldrums or what? I can always tell by my class website email box...it's always empty.  No action, no news, no suggestions, no additions to pages, no finding lost souls. Not in the summer.

All I hear is complaints about the heat. Now come on. I remember Tucson in the summertime, in the 50's. Few had air conditioning in their cars, especially the jalopies we drove around in. And, most of us had swamp coolers at home. All I can remember was being busy and not even thinking about the heat.

RETIREMENT AND BACK TO TUCSON

Well, we sold our retail stores in Nevada as of May 1, and in August will be moving back to Tucson, from whence we came. Ford Burkhart just wrote to say his last day at the New York Times will be Friday, July 6, and then it's on to Tucson and a return to the same house he lived in 60 years ago. Can you believe it?  His dream job...going from making sure the story about Mahmoud Ahmadinejad is placed correctly to repairing the roof and leaky pipes, overnight. Welcome back to the Old Pueblo, Ford, we'll have a cuppa joe and figure out how to bring peace to the world in our golden years.

IS RADIO CALLING ME AGAIN?

I visit my old buddy Burt Schneider on his afternoon shift at KUAZ radio and get a hankering to get back on the radio again. Trouble is, I sure don't want to do it every day. Just every once and a while would suit me fine. Unfortunately nobody wants you "once in a while." Those are the hazards of being independent for so many years. Actually, a couple old radio historians have collected great material on our favorite station, KTKT, which was one of the nation's best top forty outlets of the 50's, 60's, and 70's and perhaps I will be working with them building a website.  Sounds like fun!

REUNION LESS THAN 2 YEARS AWAY.

I presume you all celebrated the 48th anniversary of our graduation on June 5th.  Just think, it's less than two years to our big 50th. Pam Morris and I chatted about that the other day and we both agreed that it was time to start working on the big event. I've been to every reunion, and I personally liked the 40th at Lodge On The Desert. The entire event was well done and the place was an appropriate venue for the class. Kudos to the gals who planned that. They have my vote to plan the biggie.

THE TROJAN TRUMPETEER

Merlyn Bee has a collection of every Trojan Trumpeteer from the first one published while we going to Tucson High, until we graduated. So he loaned them to me to scan and put up on our site for us and for the other classes to look at and enjoy.  So I bought a large format scanner for the purpose. After I had scanned about 3 editions I did some moving and broke the scanner, so I will be getting another one when I get to Tucson.  And, when I do, I will need some help. It is a very tedious and time consuming job scanning them. If you have some time on your hands, I could use a volunteer to help me. If you would like to lend a hand, please let me know. Thanks in advance.

If anybody has anything to add to the site, or any suggestions, or comments, please let me know. 

Have a nice summer and until next time, I remain

Your Humble Webmaster,

Ray